BOUNCY CASTLE HIRE LIMERICK
At Limerick Parties we have bouncy castles to suit all budgets. Please have a look at our selection below and if you have any inquires or would like to find out more information please give us a call on 0852537330 or email info@kidspartieslimerick.com
BOUNCING CASTLES LIMERICK
TERMINATOR TORMENT
OBSTACLE COURSE

Size: 12ft X 50ft
You won't find a bigger Obstacle course in Limerick. We have this on hire every weekend and is by far our most popular unit. To find out more about this obstacle course click here
BUGS
OBSTACLE COURSE

Size: 11ft X 32ft
If you are looking to hire an obstacle course in Limerick. This is definately the one to go for. It has a built in rain cover and is completely enclosed so is very safe for younger children. This obstacle course is very popular for kids under 11. If you hire this obstacle coruse we can also supply a Kids Party DJ for only and extra 80 euros.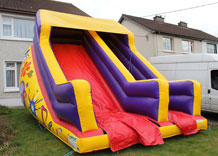 SUPER
SLIDE

Size: 28ft
This bouncy slide is very popular in Limerick and is suitable for parties with large gardens/community events/corporate events. This is a soild strcture and great fun is guaranteed with this bouncing castle.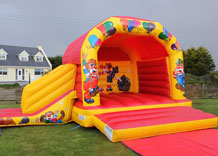 PARTY BOUNCE
'N' SLIDE

Size: 15ft X 20ft
This boucning castle with slide is ideal for Birthdays, Communions, Confirmations and all other types of events in Limerick. If you hire this castle we will supply a DJ as well for only and extra 80 euros.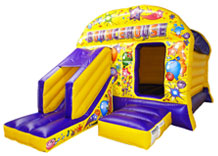 BOUNCE HOUSE
WITH SLIDE

Size: 12ft X 18ft
An excellent alternative to our Party Bounce 'N' Slide, these bouncing castle combis are designed to fit into the smallest of gardens. This combi bouncy castle also has a built in rain cover.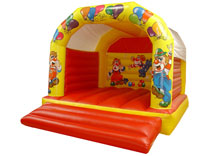 11 x 13
BOUNCING CASTLE LIMERICK

Size: 11ft x 13ft
This 11x13 foot Bouncing Castle is our smallest bouncing castle and will fit into most gardens. It is suitable for kids aged between 2 and 8. It is also one of our cheapest bouncing castles to rent so if you have a low budget this is the one to hire.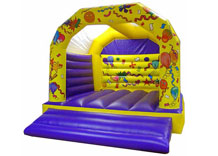 12 x 15
BOUNCY CASTLE

Size: 12ft x 15ft
This 12x15 foot Bouncing Castle is one of our most popular bouncy castles. It has a very simple structure and will fit into the majority of gardens. There is a rain cover built in and is very popular for parents who just want a simple bouncng castle for their childrens birthday parties.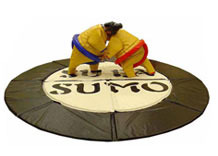 SUMO
SUITS

These sumo suits are a great side attraction for a childs party. The children will wear the sumo-suits & helmets provided and battle it out over a safety mat. The first contestant who falls onto the mat has lost. The adult sumo suits are also very popular for stag nights in Limerick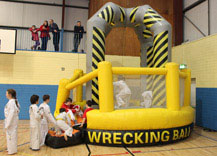 WRECKING
BALL

Size: 18ft
Very few bouncy castle companies in Limerick have a wrecking ball and thats why our one is nearly always booked out. Its very popular and is suitable for all age groups. Call us today on 0852537330 to check its availability.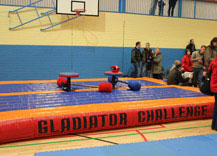 GLADIATOR
CHALLENGE

Size: 18ft X 16ft
This is an excellent boucncy castle and is very popular in Limerick for Sports days, festivals and theme building. This bouncing castle is ideal for both adults and children. For this price its a bargin.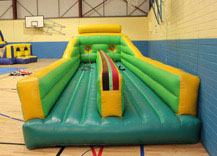 BUNGEE
RUN

Size: 40ft
This Bungee run is an excellent bouncy castle and is ideal for kids over 7 years. It is very popular in Limerick for parties with large gardens/community events/corporate events. This is a soild strcture and great fun is guaranteed with this bouncy castle.
DJS FOR KIDS PARTY LIMERICK
If you're booking a bouncing castle, why not hire a DJ from us too. We have specialized DJs that have all the children's favourite songs and are excellent at playing party games and keeping the kids entertained throughout the party. We can also supply you with a small sound system and disco lights so you can be your own DJ on the day. This is a little bit cheaper.
OTHER SERVICES FOR KIDS PARTIES IN LIMERICK
The reason why so many people from Limerick book through us is because we offer great package deals on bouncy castles, DJs, face painters, childrens entertainers and kids magicians. All these services would cost alot more if hired as a standalone service.
BOUNCY CASTLE HIRE LIMERICK
Limerick Parties is a bouncy castle hire company in Limerick City. If you are living in close by we don't charge for travel, but if it is a bit out like Adare, Shannon, Castleconnell - We will charge a little bit extra for travel expenses. We try to keep this to the bare minimum. Below is a list of all the areas in Limerick that we cover.
Limerick City and Suburbs
For the best bouncing castles in Limerick contact Limerick Parties.