Kids Party Entertainment Limerick, Birthday Party Limerick
If your thinking of orgainising a kids party and are looking for kids party entertainers Limerick contact us. We will create the "Wow" Factor

Kids Parties Limerick provide the following services.
Kids Party Entertainment Limerick and Kids Party DJs - Ideal for Birthday Parties, Chrismas Parties, Communions and Confirmations
Bouncy Castles Limerick - We have the best bouncy castles in Limerick for hire
Kids Karaoke Machines which are ideal for Birthdays communions and confirmations in Limerick.
Balloons and Themed Decorations for Kids Parties in Limerick
We also hire out DJ equipment, Disco Lights and Bubble Machine Hire Limerick
We supply the best entertainment for Kids Birthday Party Limerick
For the best kids party entertaiment Limerick contact us on
Mobile: 087-9850714
Email: info@kidspartieslimerick.com

Get The Party Started with Kids Entertainment Limerick
Let Kids Parties Limerick take care of your child's party entertainment and make it a day they'll never forget. We have DJs that can play exciting games, give away prizes for dancing competitions, make balloon animals and more, we will handle all the fun and excitement at a rate you can afford.
DJS IN LIMERICK CITY AND COUNTY
Organizing a kids party and need a DJ? We at Kids Parties Limerick have teamed up with the most well known DJ company in Limerick (Limerick DJs) We supply the best DJs and Kids Party Entertainers Limerick and we cater for all ages. All our DJs are reliable, professional and courteous. We at Kids Parties Limerick are always here to help you! Read More...
BOUNCY CASTLE LIMERICK
Kids need to use up all that energy! Kids love bouncy castle limerick and other inflatables. High quality bouncing castles delivered and sited with safety in mind. All our bouncy castles are made of quality materials and reinforced at key points, Our bouncy castles and bouncy slides limerick will give you peace of mind during the party and a peaceful night as the kids sleep peacefully after all the jumping! Fun, exciting colors and themes that kids find enticing. Perfect accompaniment to our DJs or if you don't want a DJ, we can also supply a small sound system to play their favorite tunes as they bounce around!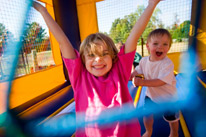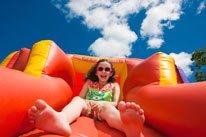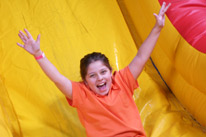 WE SUPPLY balloon bouquets and Balloon Decorations Limerick
If you are looking for balloons limerick for your next kids party or corporate event contact us. We have balloons that will take your breath away. Big arch displays to tidy little bouquets. Balloons transform a room! Tell us the kind of effect you want and we'll draw up a plan to make it happen. Foil balloons for glitz, ordinary latex balloons too. Helium gas to keep things up or tethered balloons if more appropriate, we can help you make the choice. Balloons in shapes. Balloons with messages. We can even organize custom print ballons. Archways, trees, ballon drops and centerpieces organized. We can also provide balloon delivery Limerick for sick children at home or in hospital to brighten up their day! So if you're looking for balloons in Limerick contact us on 087-9850714
Speaker HIRE LIMERICK
Looking for speaker hire Limerick or want to be your own DJ at your party! If you have the music we can supply you with the speakers and sound equipment that allows you to connect up a laptop or ipod. If you need a little help we can set it up for you and quickly show you how it works. It's EASY. Hire it a day or two before the event at reduced rates to help you practice. If you organize a party in your own home you set the closing time, you are the doorman, and best of all you select the music! We can help you set up iTunes to DJ too. A great kids party idea is to ask each guest to supply 3 or 4 of their favorite songs. We can supply Sound Equipment Hire and Microphone Hire so you can make speeches and provide background music. Our DJ equipment and Disco lights are user friendly, discrete and neat.
KARAOKE EQUIPMENT HIRE LIMERICK CITY AND COUNTY
Get a group together and karaoke is a hit. Most popular for hen parties, girlie 21sts and 40ths, karaoke makes you the star. Everybody has a party piece! We provide the gear and the songs. The gear is simple to use and we can give you a bit of one-to-one training to make sure you know where the buttons are! We can supply TVs as monitors or you can use your own TV and we will hook it in, if you want to save space. Karaoke gear that's neat and tidy can really make a get together in your house. Please note all karaoke gear is by definition disco gear as well and can play music from any CDs, laptops or iPhone/iPod or MP3 player.
KIDS PARTIES IN LIMERICK CITY AND COUNTY
As well as bouncy castles, we can handle anything your child desires for a party. We specialize in kids discos and childerns Parties. We have DJs who have specialized kids music from Satellite TV shows as well as all the charts and the classic kiddy oldies. Facepainters to make your little angel a little devil or a little tiger, or maybe a butterfly! Karaoke can be a big hit with kids as well. Your kid can be the next Miley Ray Cyrus! Your kid can lay down the rules about music too. We pay attention to the things the kids hate as well as love, all to make sure their day is special.
DISCO LIGHTS FOR HIRE IN LIMERICK
If you're not looking for a kids entertainer in Limerick but are throwing a party for your kids, you will definately need disco lights and party lights. Kids Parties Limerick have disco lights, UV black lights, laser lights, flame lights, strobe lights and bubble machine hire in Limerick
PARTY VENUES IN LIMERICK
Choosing a venue can be confusing. Many venues will tell you that they have everything you need and throw in great grub too. The reality is often a few cocktail sausages, problems with neighbors over volume levels and no one around to let you in if you want to decorate the room. We can give you the inside scoop. If you tell us what is important for you we can draw up a list for a venue to agree to. If you want to bypass the hassle and cost of venues and bar drink prices we can advise you on how to throw a party at your own home.
FACE PAINTERS IN LIMERICK
We are now looking for experienced facepainters to join our team. If you think you have what it takes please send your CV to info@kidspartieslimerick.com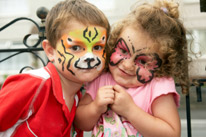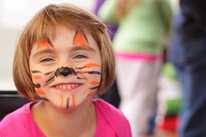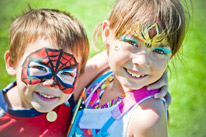 Birthday Parties Limerick - AREAS WE COVER IN LIMERICK CITY
If you are looking for Kids Party Entertainment Limerick in any of the following areas contact us. Limerick City, Garryowen, Ballysheedy, Castletroy, Annacotty, Johnsgate, Ballinacurra, Dooradoyle, Mungret, Dock Road, Ennis Road, Moyross, Moylish, Westbury and Plassey
Kids Birthday Entertainers - AREAS WE COVER IN LIMERICK COUNTY
Abbeyfeale, Adare, Annacotty, Ardagh, Askeaton, Athea, Ballagh, Ballingarry, Ballyneety, Broadford, Bruff, Bruree, Cappamore, Castleconnell, Corbally, Croagh, Croom, Doon, Foynes, Galbally, Glin, Herbertstown, Kilcornan, Kilfinane, Kilmallock, Lough Gur, Meelick, Murroe, Newcastlewest, Oola, Pallasgreen, Pallaskenry, Patrickswell, Raheen, Rathkeale, Shanagolden, Templeglantine. We also provide Kids Party Entertainment in Newport and North Tipperary.